Online Training System (OTS)




The Webs-a-gogo Online Training & Support System




Enter your search term below and select the source for your search return, Help Files, Knowledgebase or FAQ.
Be as specific or general as you like. Or, use the links above to select a support department or category to browse.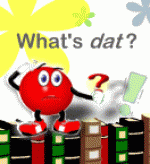 Welcome Ray


The Original Best Solution to getting the answers you need without having to master the art of searching! At Webs-a-gogo, we don't we realize it is hard enough trying to learn new stuff on the web... especially when you are not a programmer, designer, graphic artist or even technically inclined. So we created the Webs-a-gogo OTS for you. The Webs-a-gogo OTS is packed with helps, FAQs, Knowledgebase (K-Base) entries and our exclusive WAG-Tutorial videos which are networked together in a web of interconnected resources. These Help resources are web'd together in a common sense way in order to lead you to the answers you seek. We have worked hard to try and make our help system easy to use and second to none! You will find that as you browse our OTS, the topic you are searching for is covered across all of our four OTS branches, (FAQs, Helps, Tutorials & K-Base).
Summary: Once you search a topic, notice the additional resources at the bottom of the detail page for that topic item. There you will usually find links for that topic in the other OTS branches. See Sample-1 image at bottom.

Our Online Training and Support System or (OTS): This system consists of four primary methods all networked together for maximum cross reference relevancy and streamlined ease of use. Our idea is simple, offer you an online method for getting the answers you need fast. If you are not in to reading, then the video tutorials are for you. Our goal is to have a video tutorial for every single help file covering everything someone may ask. See below for our OTS systems.

-

FAQs

-

Help Files

-

Knowledge-Base- Tutorial Videos

Support Action Request (SAR) Form: What we call our SAR-Form, this is our support request ticket or support request form. By using this resource, your entire support request is recorded and tracked by our 3-Tier support staff constantly until you have your issue answered to your satisfaction. Click

here

for the Support Action Request Form.

Chat: We offer online chat for providing you help and training support. We can quickly answer your needs using a chat session and provide you with strong documentation to answer you questions. This also can be faster than a phone call since chat will jet you past the telephone system and the "on-hold que".

Telephone Support: Yes we have real people from Georgia ready, willing and able to answer your support needs over the phone. While we do try to encourage our customers to use our robust and detailed OTS (Online Training and Support) System, we are provide free phone support. We save money when you are able to use our online resources so we try hard to make it easy to get your answers using our OTS. But when that fails, just pick up the phone and call 478-274-0024!